IMBM and Lwandle Biotechnology Ocean Sampling Day 2016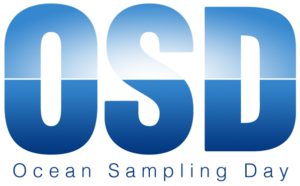 IMBM again took part in the annual Ocean Sampling Day where samples are collected worldwide, on the winter soltice, for metagenomic analysis to obtain a snapshot of the oceans.
Read more at: https://www.lwandle.co.za/newsarticle/ocean-sampling-day-2016/
IMBM's 9th birthday celebration and bake-off 2016 !!
The gauntlet was thrown down by the female members of IMBM after a statement by a senior male research member that "baking is as easy as PCR", implying that merely following the recipe was enough to deliver a good result. Several of the IMBM male researchers were challenged to bake something of their choice to be tasted by a panel of (female) judges. This also happened to coincide with IMBM's 9th birthday celebration. Below are some pictures of the celebrations and of the winners.
2015 Year end function
This year IMBM treated it's staff and students to the Madame Zingara show !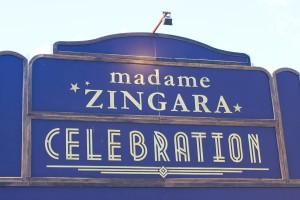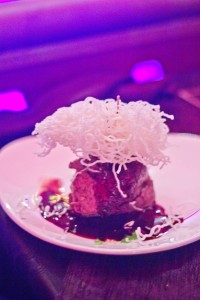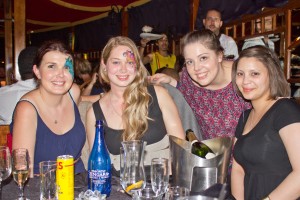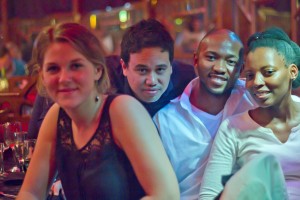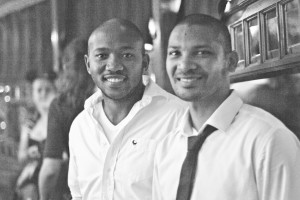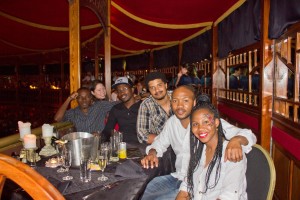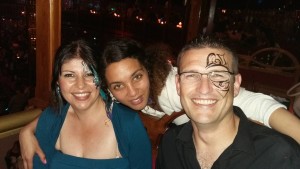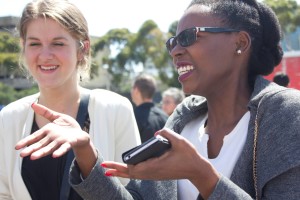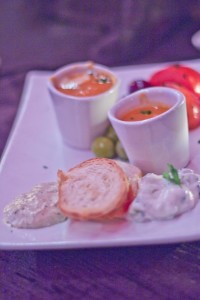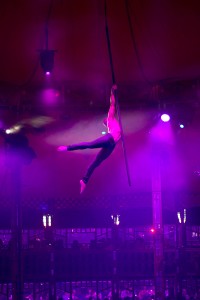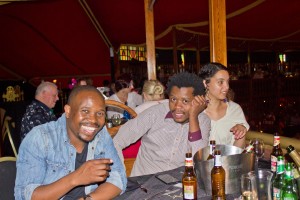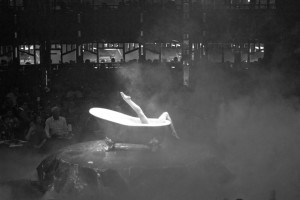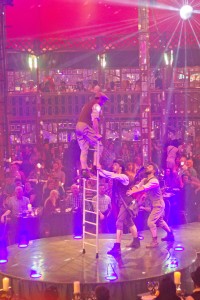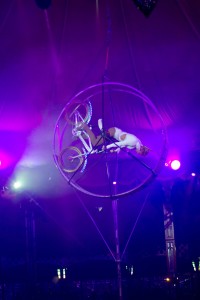 2015 Gobabeb sampling trip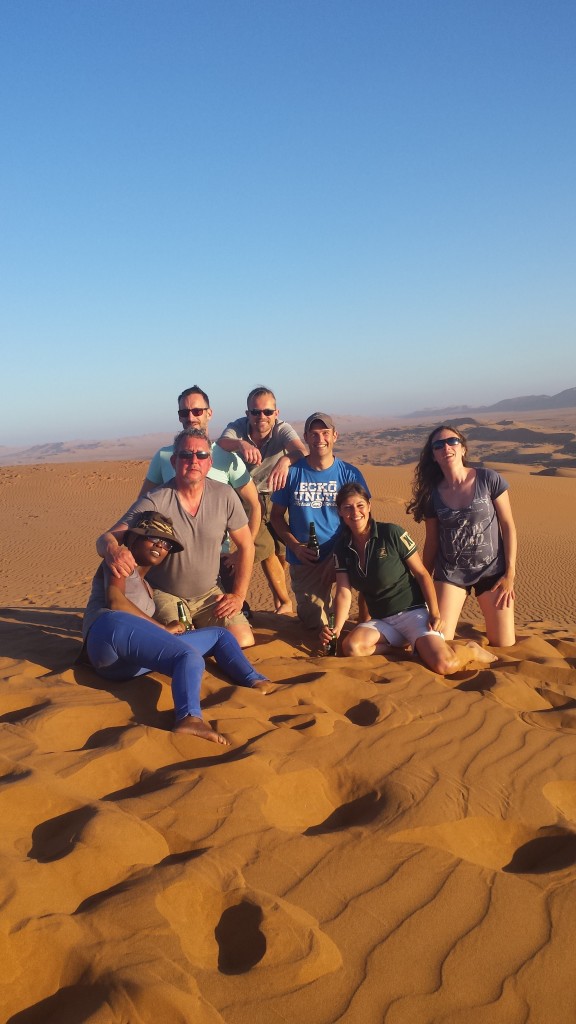 Participants from left to right: Mapula Maropola (PhD candidate), Daniel Garcia (front), Nicolas Ginet (back), Christopher Lefèvre, Lonnie van Zyl, Prof. Marla Trindade, Caroline Monteil.
The annual sampling trip was held from 12 April till 17 April 2015. This year, collaborators from a unique research body composed of the French Atomic Energy Commission (CEA), the French National Research Organisation (CNRS) as well as the Aix-Marseille Univesity were invited to come sampling with us. The goal was to see if we could identify novel magnetotactic bacteria in the Namib Desert. These bacteria are of special interest to Nicolas Ginet and Christopher Lefèvre who have been studying the organisms for several years, trying to understand why and how they have adapted to their very particular habitats, as well as to potentially develop the small magnets produced by them for use in biotechnology. Mapula Maropola is a first year PhD student at IMBM who will be looking at the diversity of magnetotactic bacteria in a range of Namibian and South African sites, as these bacteria are poorly studied in the Southern Hemisphere. The hope is to find novel members of this group of microorganism.
Accompanying Nicolas and Christopher was Daniel Garcia who is part of the Life-Phytobarre project (http://www.lifephytobarre.eu/en/), a goal of which is "to raise awareness in the agricultural community, so as to reduce its environmental impact.". A second aspect of this project, that Daniel is involved with, is to develop an innovative process for treating phytopharmaceutical effluents using photosynthetic bacteria. To this end, Daniel collected samples from several saline springs from which he hopes to cultivate novel cyanobacteria which may be useful in the process.
Caroline Monteil is the better half to Christopher Lefèvre, and a dyed in the wool scientist to boot. Her interest, apart from Christopher :), is ice-nucleating bacteria and in particular Pantoea sp. Rain is scarce in the Namib making it a non-ideal hunting ground for these bugs. Nevertheless, Caroline gave a very interesting presentation on her PhD work, about the evolution, occurrence and adaptation of these bacteria to their environment in the clouds.
Unfortunately, as research sometimes goes, the site intended for the study did not harbor magnetotactic bacteria. However, the resourceful team quickly spotted several other opportunities for sampling (including a man-made duck pond behind the lab) which yielded a range of magnetotactic bacteria.
"Purification" of the magnetotactic bacteria, DNA extraction and whole genome amplification were performed at the research station, showing how far modern molecular biology has come and a is testament to the facilities provided at the research station.
It's now up to Mapula to tell us more about what unknown magnetotactic bacteria we have in this part of the World.
End of Year Function 2014
The lab spent a wonderful time relaxing after a long years work at Helderberg Wine Estate.
…….DOES AWESOME !!!
Reyghana Hendricks, one of IMBM's M. Sc. students, answered her phone with the correct catch-phrase and won the "Roche does awesome !" competition, and a LOT of pizza !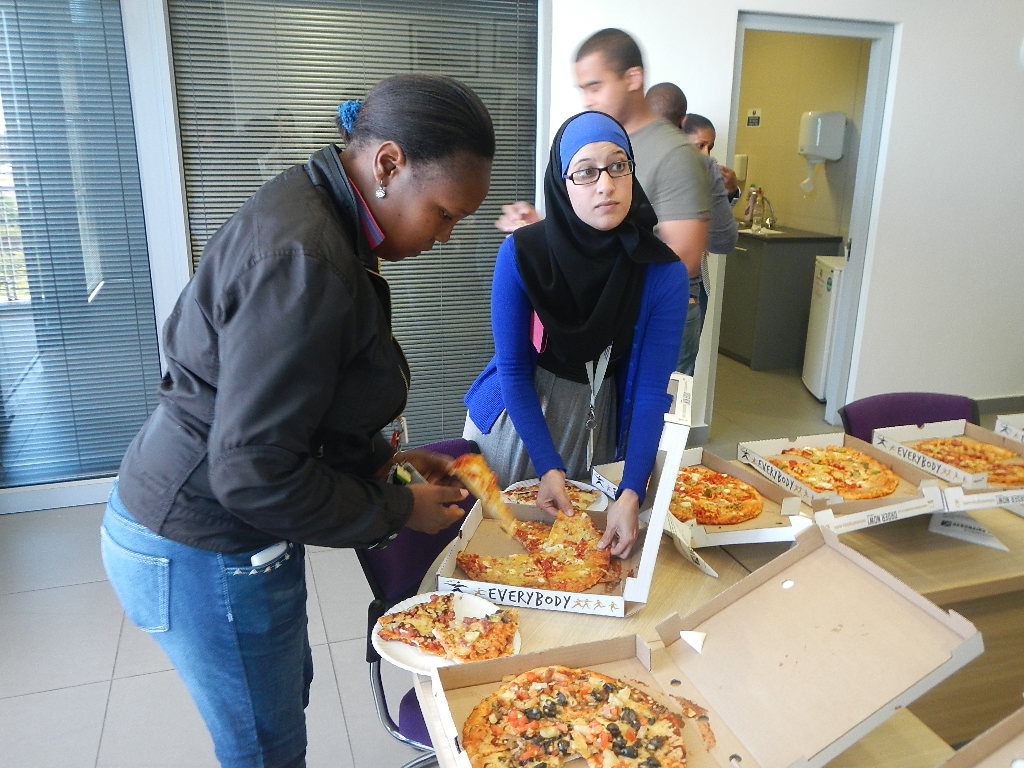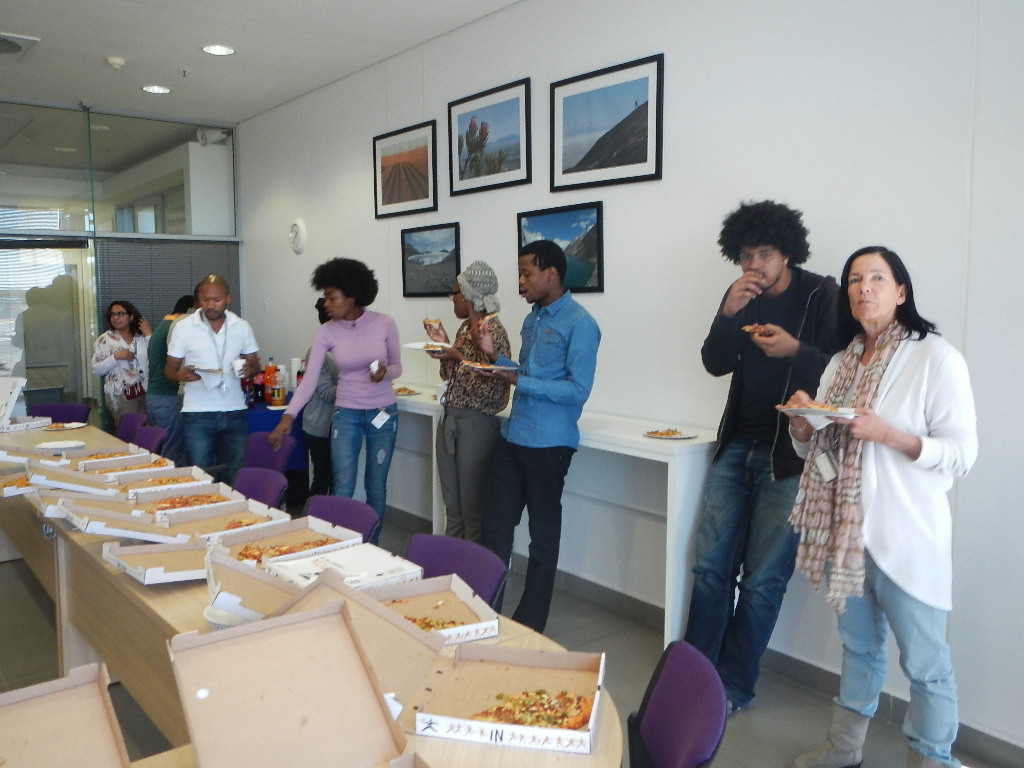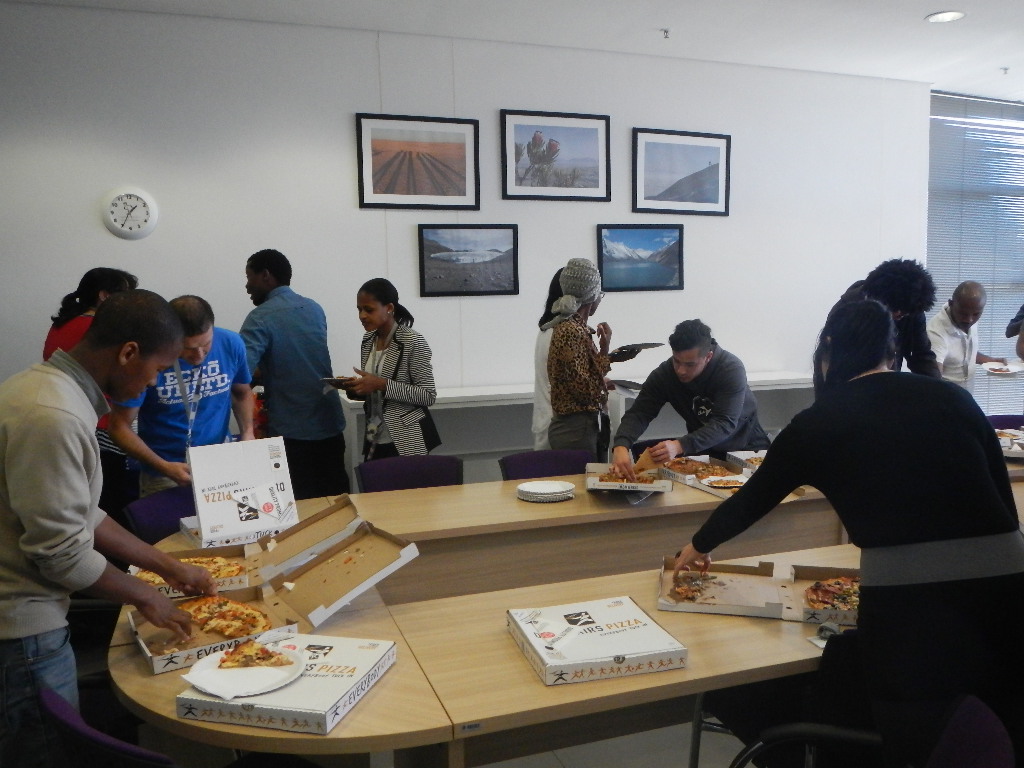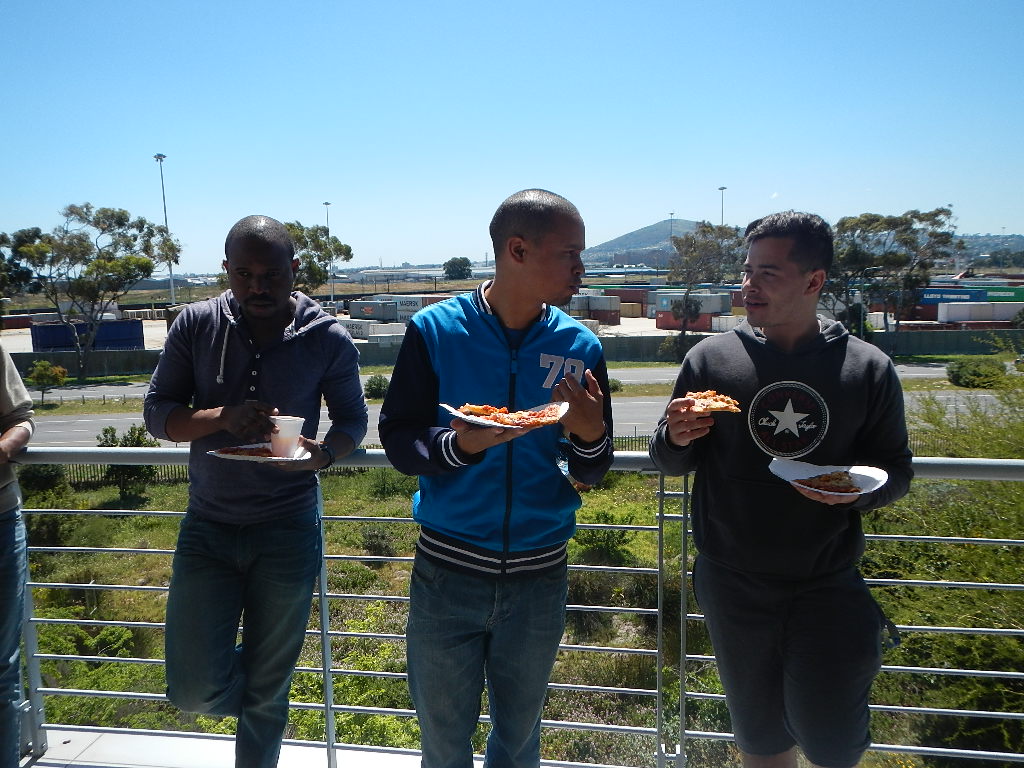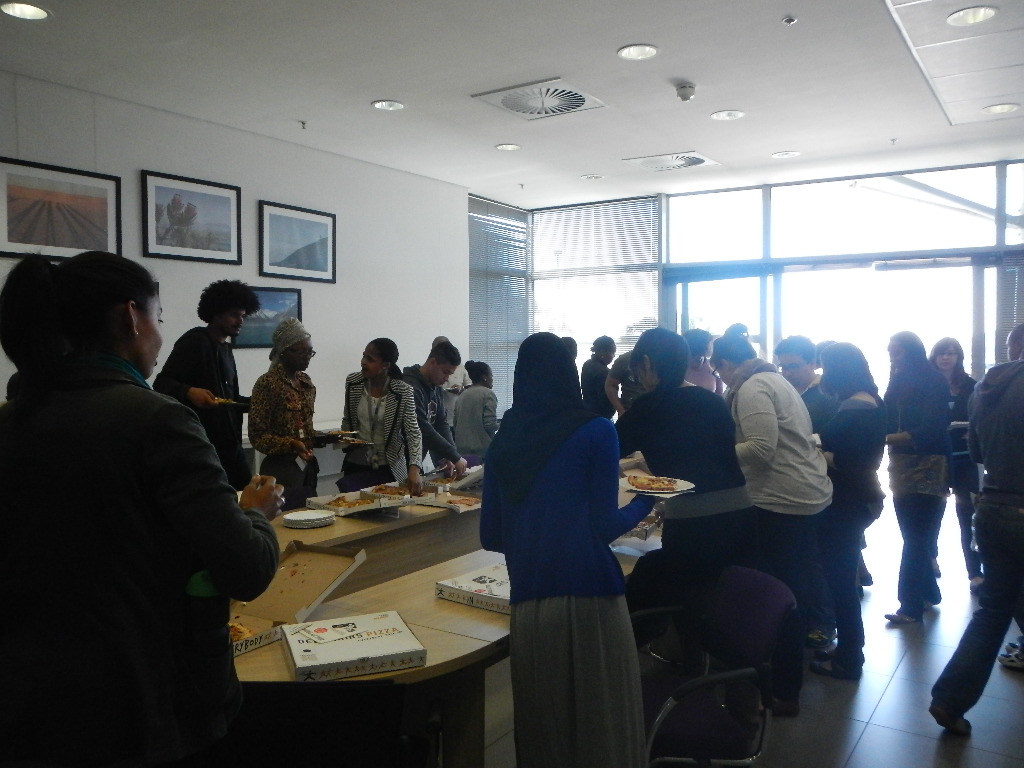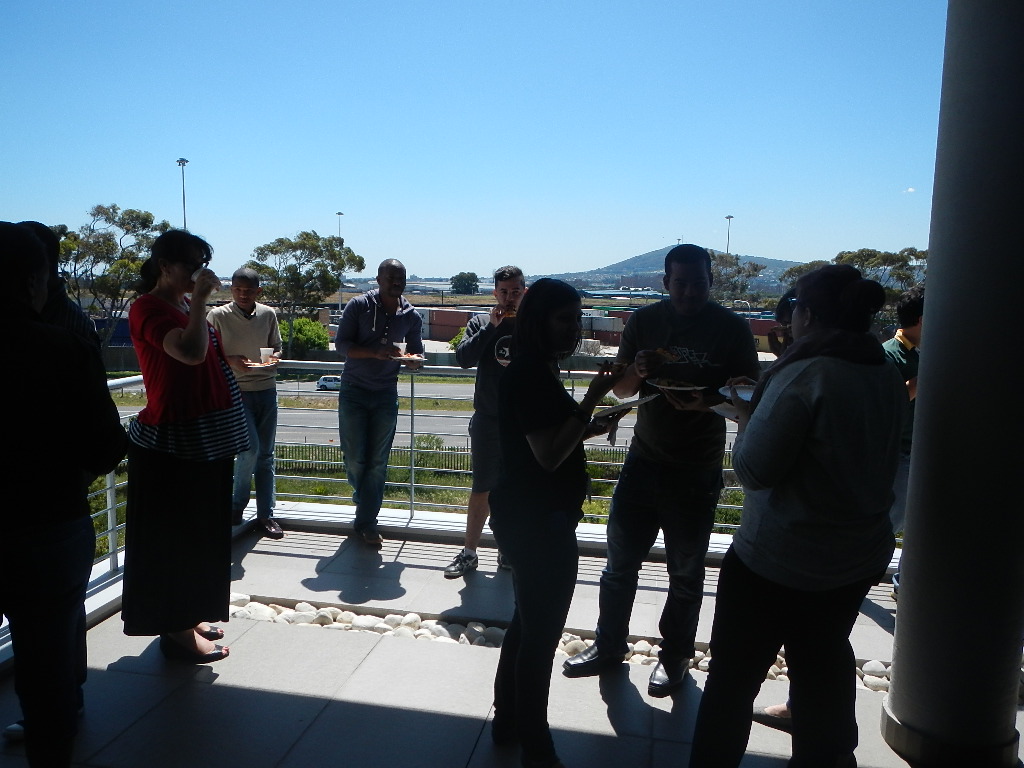 Thank you Reyghana and a big thank you to Roche
IMBM Heritage day 2014 braai
For heritage day 2014 IMBM held a braai and asked lab members to come dressed in garb reflecting their heritage. Below are some pictures of the day which was thoroughly enjoyed by all !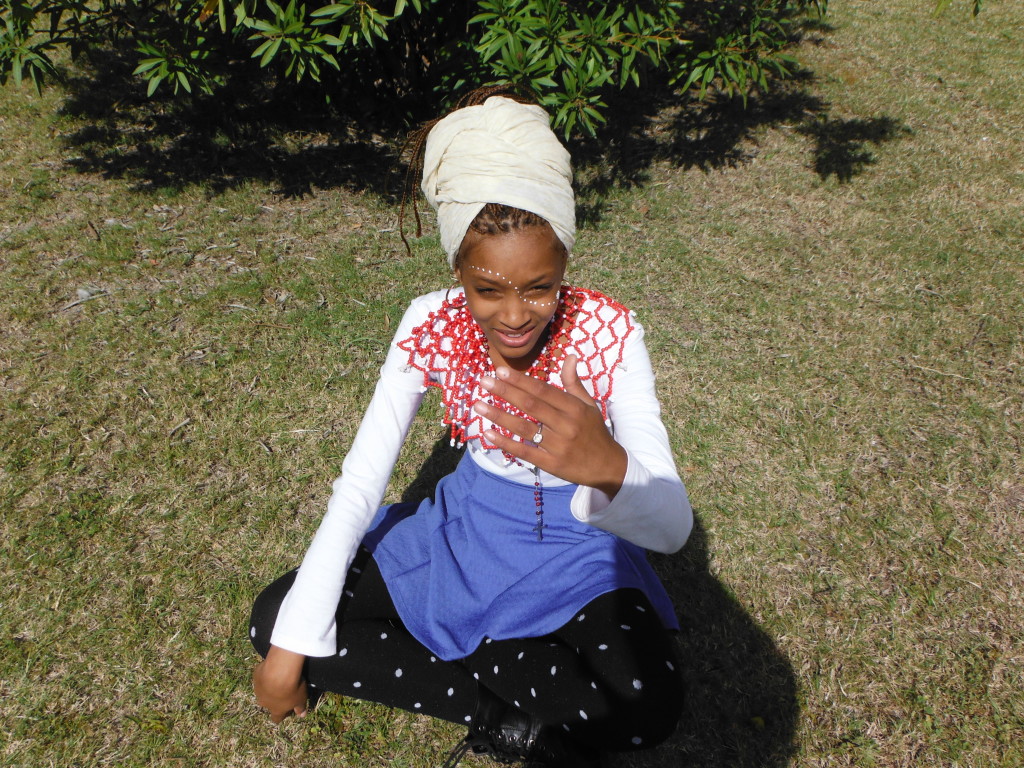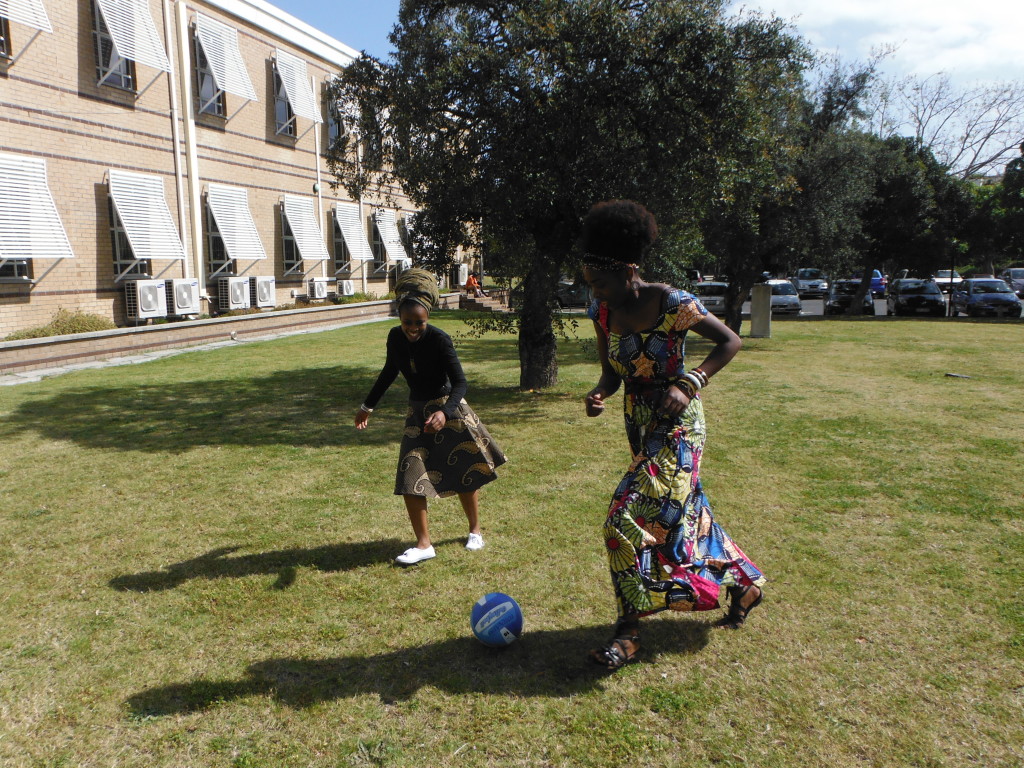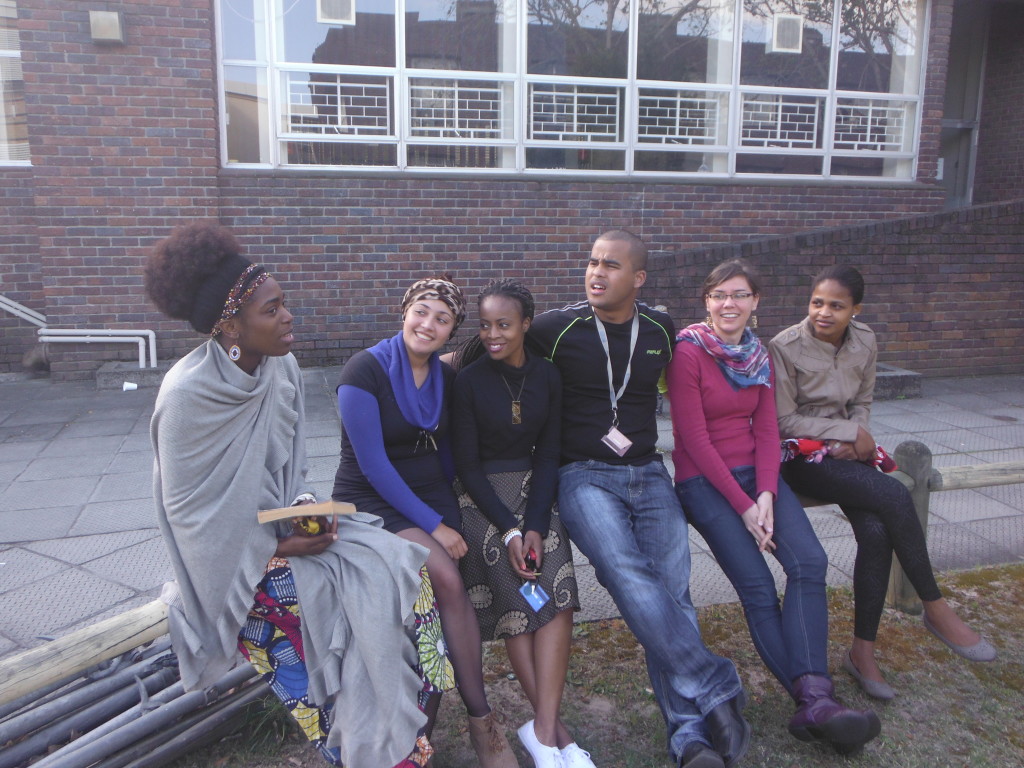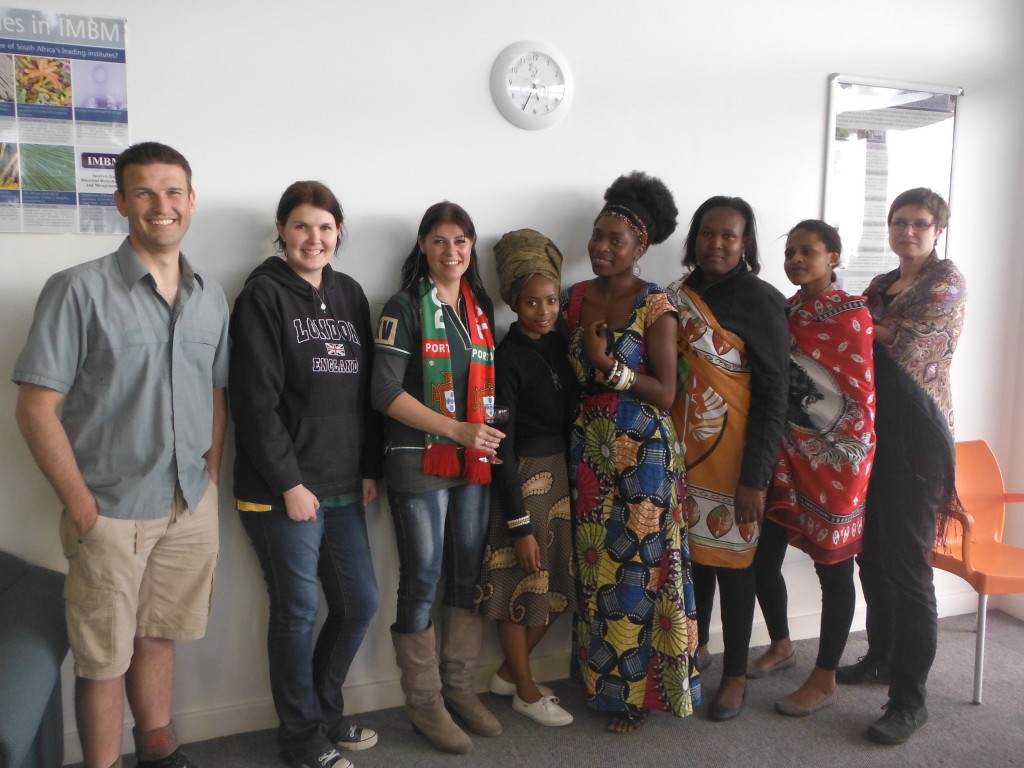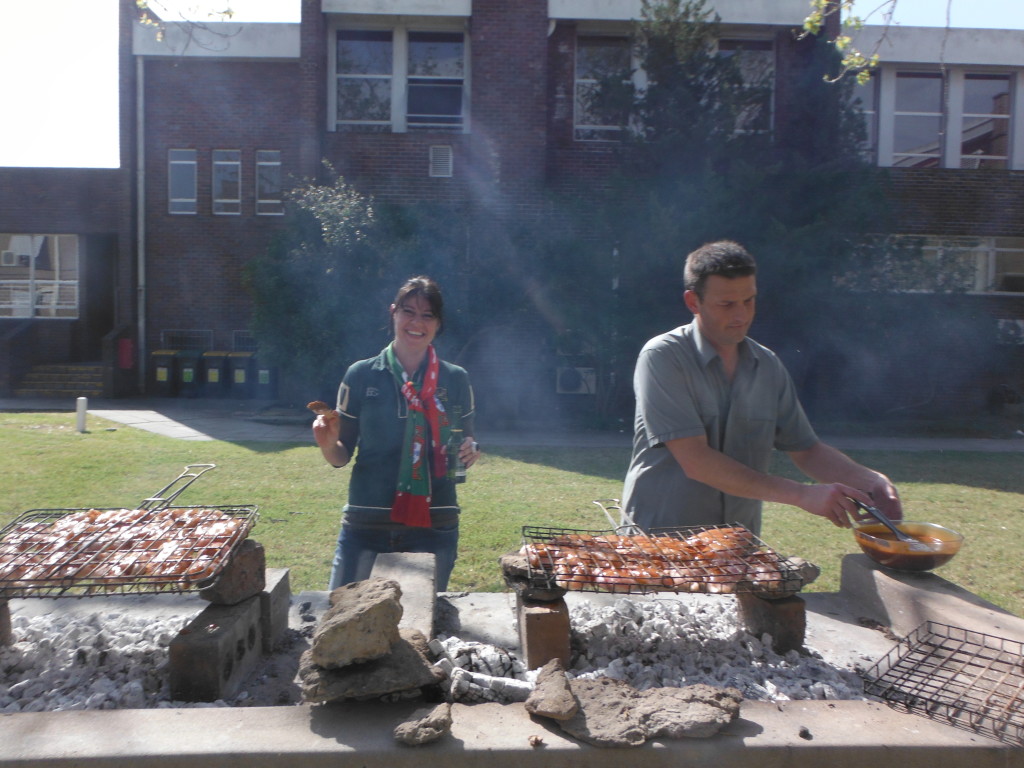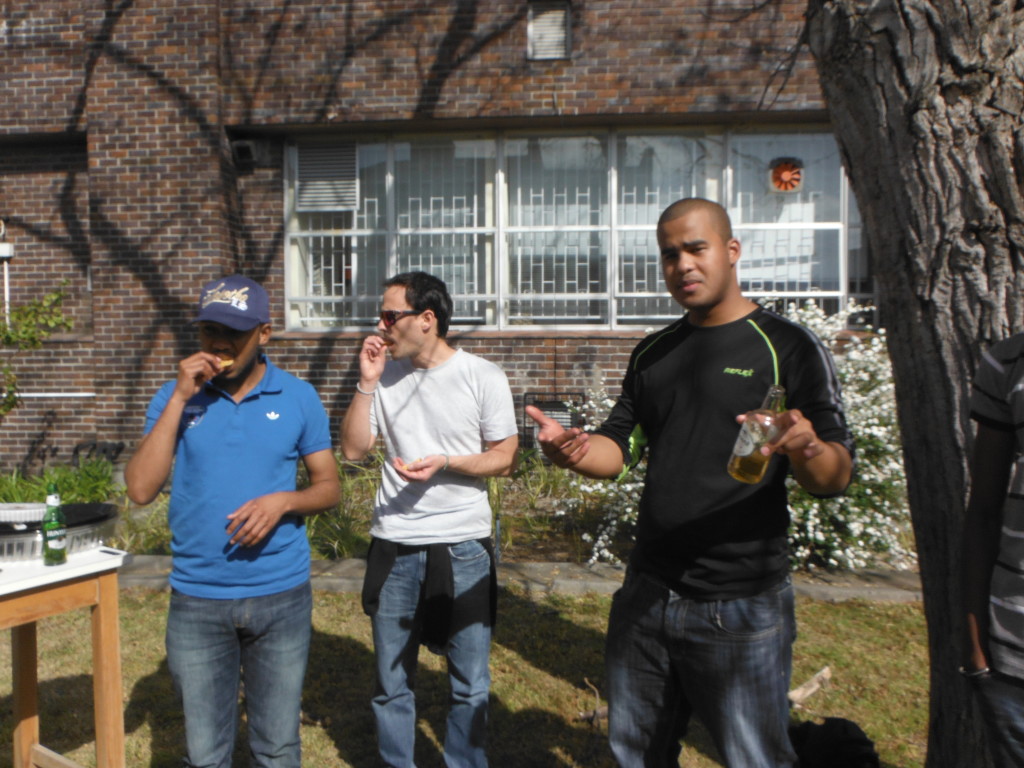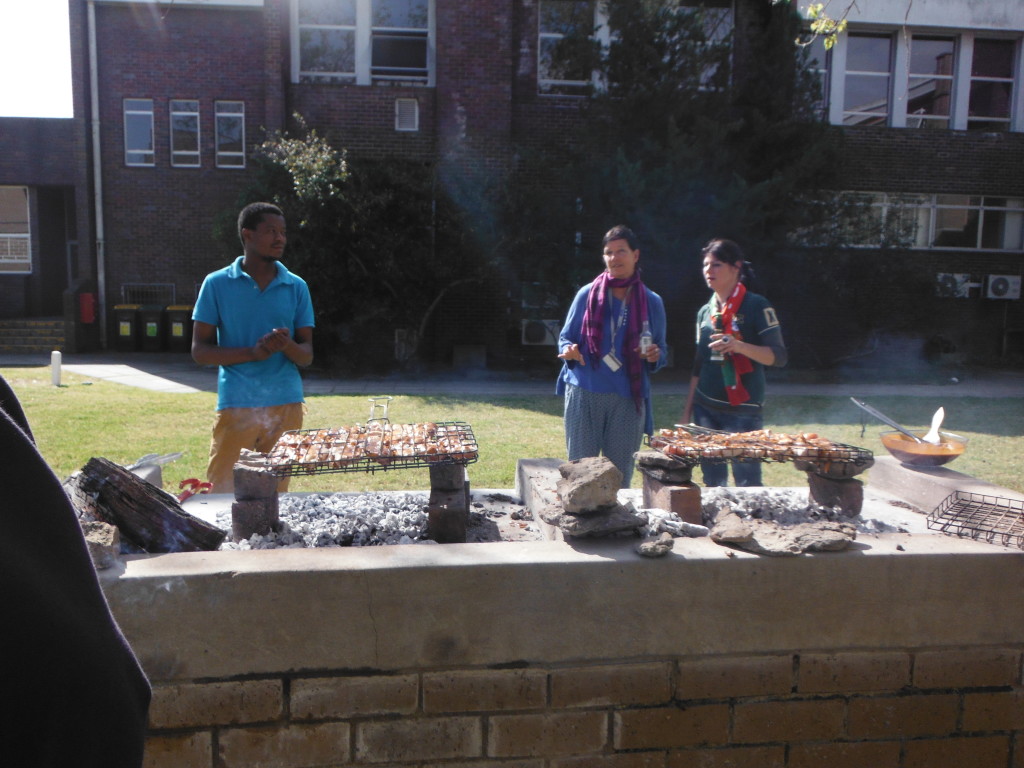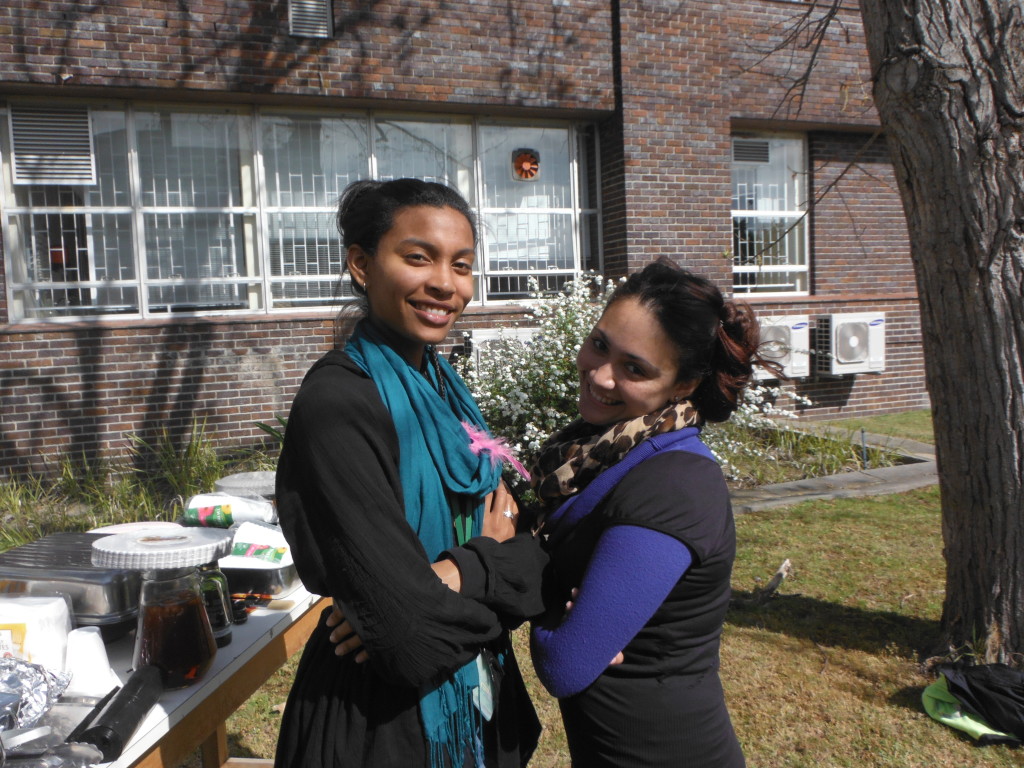 2014 Welcome back breakfast !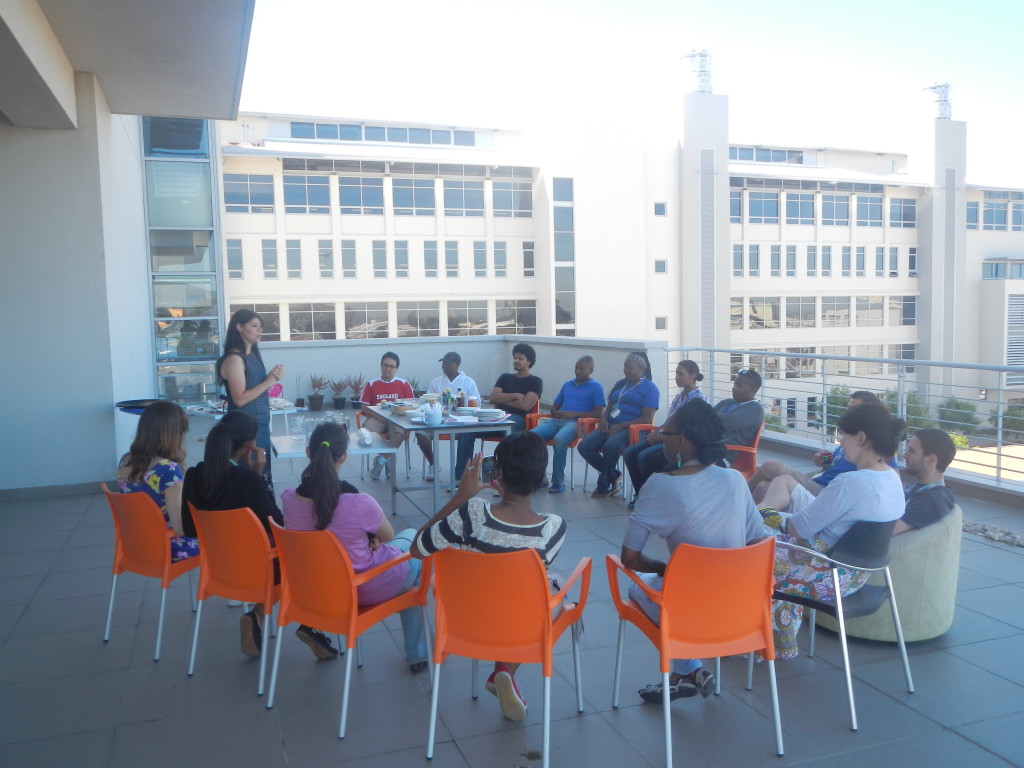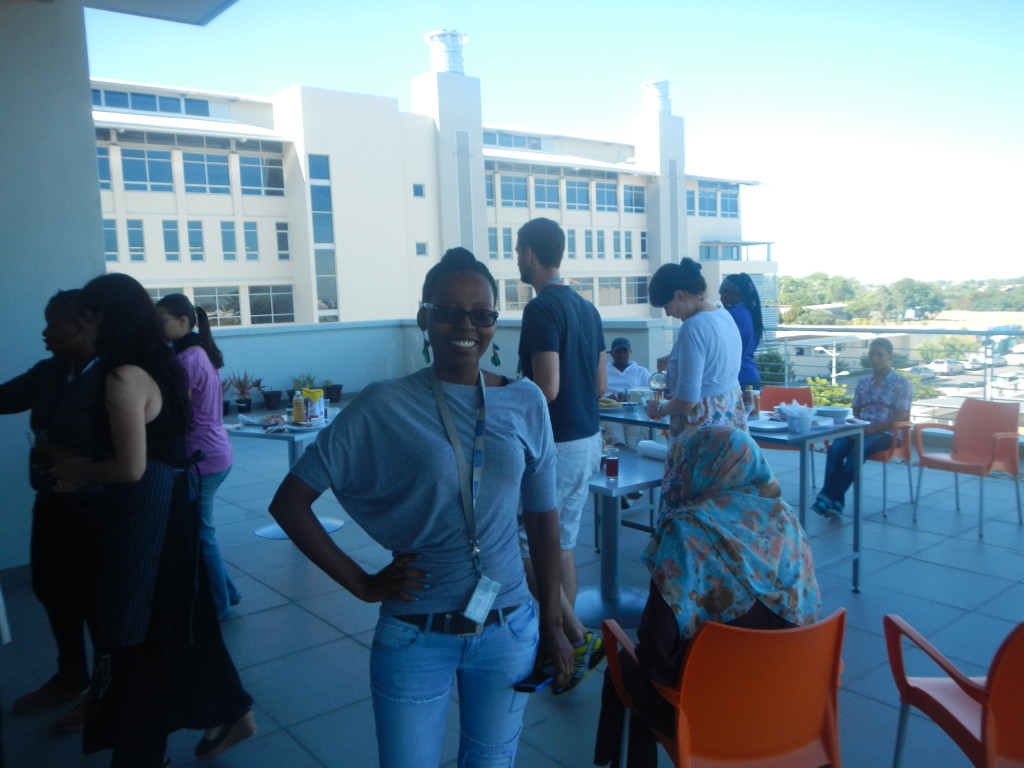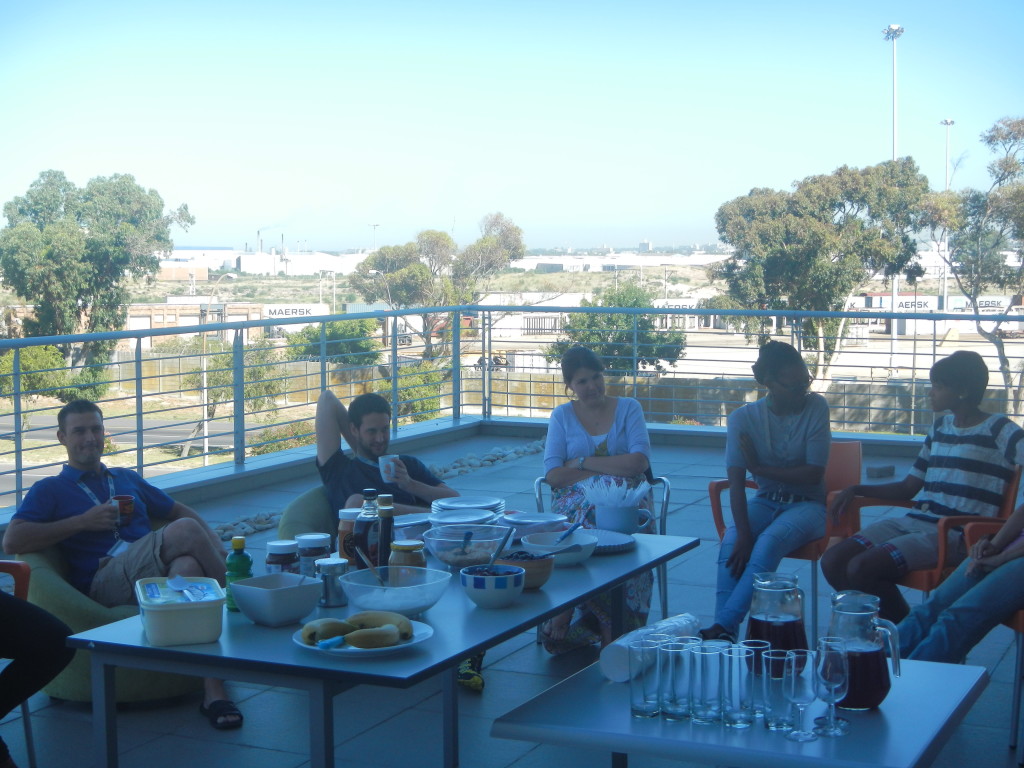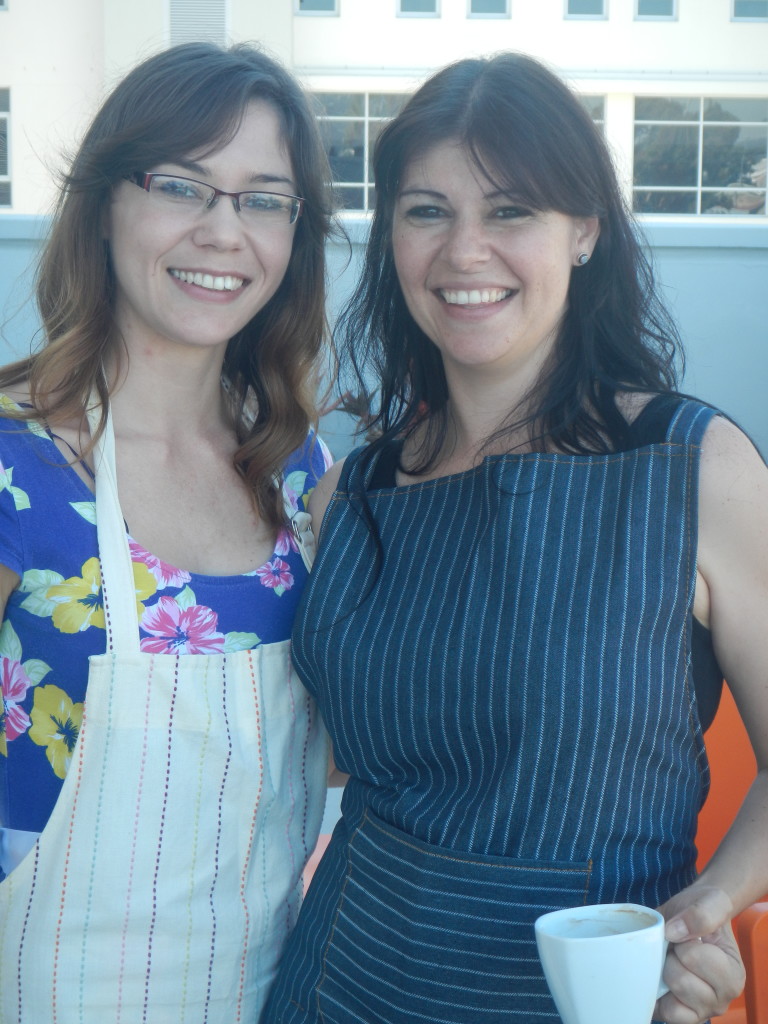 Bela Bela Magnetotactic Bacteria Sampling Workshop SASM2013
IMBM Year End Function Muizenberg Beach 2008 
IMBM Social 2009
Cape Town Compost Heap (Master Organics, Philippi) Sampling 2009
Northwest Province Sorghum Sampling Trip 2010
Lake Magadi Kenya Sampling Trip 2011
Darling Rooipan Sampling Trip 2011
                 Gobabeb 2012: Namib Desert Field Expedition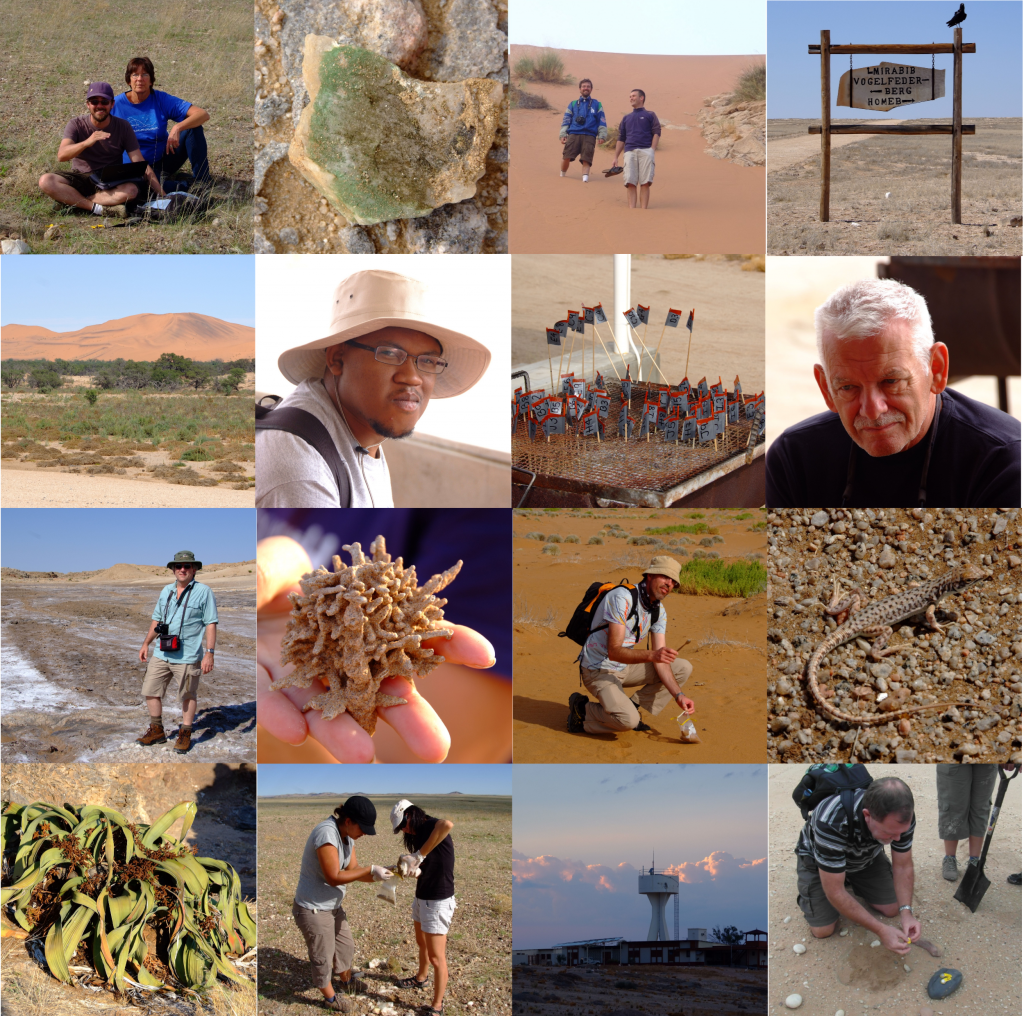 Sightings of Ludwig's Bustard (Neotisludwigii) and Welwichia mirabiliswere not the main aims of the 2012 Namib Desert Field Expedition but formed an exciting addition to studies on desert hypolithic communities, soil microbial diversity and the role of water bioavailability, and "catching fog". Members of UWC's Institute for Microbial Biotechnology &Metagenomics led by Prof. Don Cowan met up with NASA scientists from Ames, California lead by Chris McKay at Namibia's Walvis Bay International Airport on Sunday 22nd April for a week of scientific investigation at the internationally renown 'Gobabeb Training and Research Centre' (http://www.gobabebtrc.org/), under the auspices of UWC IMBM, the NASA 'Spaceward Bound' program and the Royal Society of South Africa (RSSAf).Gobabebhas a unique situation on the banks of the [ephemeral] KuisebRiver that forms the boundary between the northern gravel desert and the red dune deserts to the south. The site also forms the transition between the coastal fog-zone and the inland rainfall areas where the summer and winter rainfall areas merge.
For the NASA scientists the Namib Desert provides a terrestrial model for the Mars regolith and with the next Mars probe due to land in August 2012, there is heightened interest. For the IMBM scientists the interest is phylogenetics and there is an interesting comparison to be made with [cyanobacteria] hypolithcommunities and soil microbial diversity in another IMBM study area, the Dry Valleys of Antarctica – a dry, cold desert. Much effort, by both teams, was put into understanding water bioavailability in this arid environment. This involved Margarita Marinova and University of Edinburgh postgraduate student Sophie Nixon rising early to go 'fog-catching' in order to obtain enough water to determine isotope signatures. The IMBM approach involved longer-term studies. A principal goal of the expedition was to recover microclimate data (temperature and soil humidity) from iButton sensors that had been placed a year earlier at 0 – 20 cm depth at intervals of about 20 km along 2 east-west trans-Namib desert transects and to reposition the iButtons for a further 12 months of data recording.
A 2nd aim of the expedition was to establish an IMBM monitoring site which Master's student Alacia Armstrong stationed at Gobabeb will sample regularly over a 12 month period. The study is designed to investigate the role of seasonal carbon (and nitrogen) input on the soil microbial population dynamics. Any rainfall leads to an explosion in vegetation, which presumably results in a shift in the soil microbial population. Alacia's analysis will reveal the extent to which this happens. Other areas of investigation involved salt springs and seeps in the middle of the desert and a new study in collaboration with University of Cape Town virologist Prof. Ed Rybicki on bacteriophage diversity.
In between some serious science there was time for excursions and relaxation: bird watching, visit to the Welwitchia's (a plant of ancient lineage only found in the Namib Desert), quad biking in the desert, excursions to Swakopmund and Mirabib, an 'inselberg' which featured in the opening scenes of Stanley Kubrick's cult film "2001: A Space Odyssey". No field trip is complete without food and for this we have to thank chef Hendrick for very substantial meals, picnics and braai's.
Following on from the field expedition the Royal Society of South Africa held a 2-day Special Colloquiumto celebrate the 50th anniversary of Gobabeb Research and Training Centre, and to help Gobabeb plan its future desert research. The Special Colloquium was presided over by Dr. Mary Seely, who with more than 50 year's experience (32 years as Director and now as ad interim Director) has grown to epitomize Gobabeb. About 40 scientists and social scientists from a wide spectrum of disciplines listened to lectures on Gobabeb related issues, including giraffe and rhino conservation, desert microbiology, meteorology and climate change, mineral mining and ecological restoration. An afternoon of round table discussions was designed to define the future direction of Gobabeb as a unique research and training center.
©Brian E. Jones
Participants UWC IMBM   
Don Cowan
Marla Tuffin
Lonnie van Zyl
Jean-Baptiste Ramond
Angel Valverde
Thulani Makhalanyane
Melissa du Plessis
Alacia Armstrong
Heide Goodman
Ed Rybicki (University of Cape Town)
Martin Kemler (FABI, University of Pretoria)
Brian Jones (DuPont, visitor)
Participants NASA
Chris McKay
Wanda Davis
Margarita Marinova
Rosalba Bonaccorsi
Mike Wing (Sir Francis Drake High School)
Sophie Nixon (University of Edinburgh)
          Darling Microbial Ecology Sampling Workshop 2012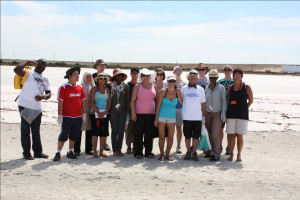 On 14 March 2012, a group of 20 IMBM (Institute of Microbial Biotechnology and Metagenomics) researchers set out on a sampling workshop at the Rooipan salt pan, Darling. The group included two exchange PhD students from the Karlsruhe Institute of Technology, Germany, and Dr Brian Jones. Dr Jones has taken a 6 month sabbatical at IMBM, and is employed at Genencor International, a private biotechnology company. He has conducted microbial ecology research for the past 30 years and is an expert in the field of extremophiles, having published over 50 papers in peer reviewed journals.
Several salt pans have been the focus of IMBM research, and are situated 80 km North of Cape Town, North-West of Darling in the Western Cape of South Africa. In arid and semi-arid regions, these pans typically develop as a result of internal drainage. The majority of Darling pans are fed by surface water that is composed of seawater salts and low alkalinities. Pans are an integral of the South African landscape and serve as important sources of high-quality salt to neighbouring communities. As halophilic environments such as hyper-saline pans in Southern African are not well studied, research focussing on the Darling salt pans serve as potential platforms for understanding the geochemistry and microbiology of these (poly)extreme environments. Samples from these environments are subjected to metagenomic screening for enzymes which have potential application in industry, and to phylogenetic typing of the resident microbial communities.  Culture-dependent isolation of halophilic phages, bacteria and archaea is also applied for the isolation of novel enzymes and useful by-products.
These environments also serve as an outdoor laboratory and teaching facility, and the Rooipan salt pan was an ideal setting to hold this workshop.  To set the tone, the workshop was kick-started with a seminar presentation based on the paper "Replicate or Lie?" by Prosser J.I (2010). At the salt pans, the major principles, tools and techniques involved in microbial environmental sampling were presented to the attendees, followed by a demonstration of the various sampling methods.
The workshop followed a seminar on the paper "Replicate or Lie?" by Prosser J.I (2010). This paper emphasises the need for replication in microbial ecology and the lack thereof in literature published in prestigious journals. The author continues to mention the general lack of good scientific practise and the inclination to use expensive high-throughput methods to avoid the use of replication in ecology. This workshop aimed to expose researchers to the various sampling methods available and the necessity of obtaining true replicates in microbial ecology.
The German exchange students took this opportunity to sample this environment, with the aim to isolate novel microorganisms that produce biosurfactants and ultimately to target specific enzymes involved in glycolipids synthesis.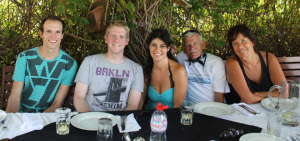 From left to right:
German PhD exchange students Johannes Kügler and Martin Pöhnlein; Prof Marla Tuffin, Acting Director of IMBM; Dr Brian Jones, Genencor; Dr Heide Goodman, IMBM.
Namibian Sampling Trip 2013